Way back when, Simple Stories came out with the "
Daily Grind
" collection. In my opinion, it is geared toward Project Life-ers (which I am not). However, the color palette and the name (hello coffee reference!) made me fall in love with the collection.
So, like any good scrapbooker on a budget, when I saw
Scrapbook Steals
had it as a steal, I picked it up. However, knowing I was heading to Utah for their Scrapbook Retreat, I chose to do local pick-up. It felt like an
eternity
before I actually got it in my hands and OH MY, I was
not
disappointed! I think that these are my colors. (In the same way that those scrapbook girls I went to the retreat with are my tribe...but I digress). The collection really spoke to me. So, I made this.
I am a big fan of grid layouts but have never really tried my hand at one. The cute little cut apart cards in the collection just begged for this kind of layout though!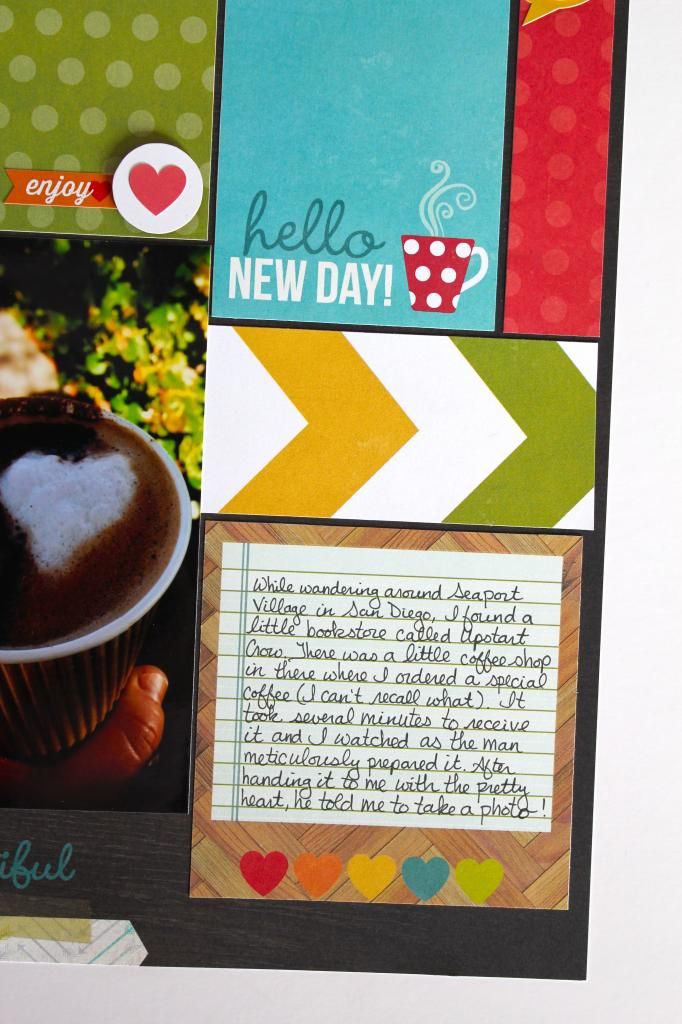 This coffee was seriously so yummy and the prettiest coffee I've ever had as well. See? This collection was made for my photo! :)
Also, I am not always very good at using the corner preprinted paper that comes in a collection so I was happy that I was able to use this paper! The collection seriously comes with some adorable stickers and prints.
Ah, the fun of creating something at a retreat with people who "get" your need to create. It was pretty wonderful! This was my fourth year attending the Scrapbook Steals Retreat and it was just as incredible this year as years past. Perhaps even more so! Yummy food, gorgeous state, fun times and amazing friends...can't ask for more!
Thanks for stopping by today! Until next time...
Scrap Happy~
Melissa
**HEY! I just realized that this is my 200th post! Wow! That doesn't seem possible. Just for fun...tell me what you would like 200 of! For me right now, it'd be fresh from the oven chocolate chip cookies! Yum!**