I may date myself here but remember the show Friends? Remember the one where Phoebe has a theory that Ross is Rachel's lobster? Refresh your memory by watching this YouTube
video
if needed! While Phoebe's theory may not be completely accurate (so much for learning scientific facts from sitcom television), that phrase came back to me while creating this layout.
Our first lobster boil together. Nathan's first lobster ever. That title was too perfect to pass up! I love to experience new things with him. And, if after 19 years together, we still can find fun, new experiences, I am happy!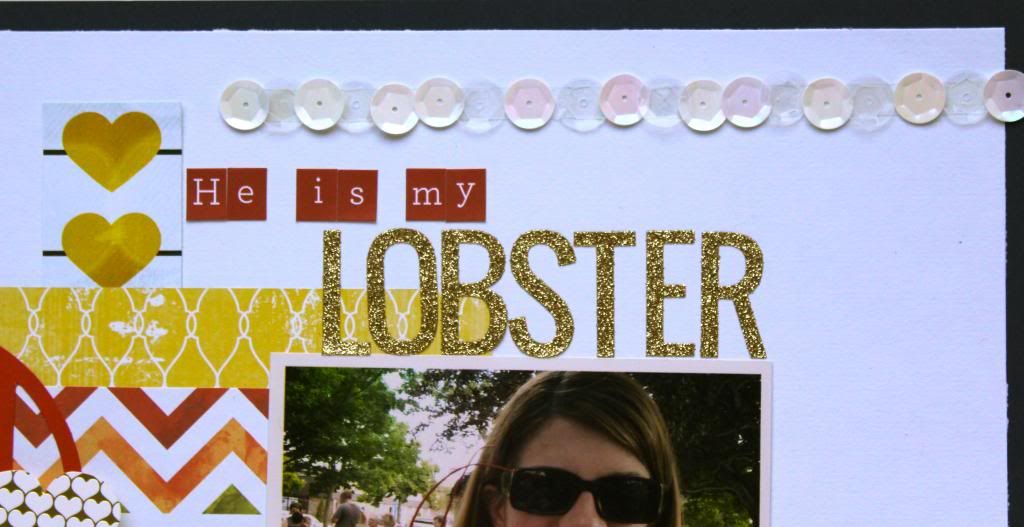 Plus, he is my lobster (according to Phoebe's logic anyway) and that makes me happy! You know what else makes me happy? SEQUINS! Seriously, I
love
them. Probably more than a 40 something year old should. The best thing is that I found a new way to use them. See that line of sequins at the top? That is ribbon tape adhesive in a line with the sequins all stuck on. I love how it looks!
I used my newly purchased Glitz Color Me Happy papers (thanks
ScrapbookSteals
!) and some glitter letters from Pink Paislee's Luxe collection to put it all together...and a few more sequins! :)
I also used the
sketch from the Paper Bakery
this week. I really like Juliana Michael's sketches. Pretty much every single one inspires me to create. She's kind of a sketch superstar in my world!
I am so glad that you stopped by today! I hope you'll visit again soon!
Scrap Happy~
Melissa