Changing it up a little bit my friends. I haven't been crafting as much as I used to be, and now, when I do craft, I tend to just post on Instagram and call it a day. I am not sure why, but that is how I've been rolling lately.
I have been tossing around the idea of doing some fun,
general lifestyle
posts and seeing how that goes. I realize that may not fly with everyone but let's give it a try? Alright? :) Living on the edge these days.
At any rate, one of my favorite bloggers,
Sheaffer from Pinterest Told Me To,
(who actually got me following
Shay from Mix and Match Mama
) shared this fun little thing to do on the last Wednesday of each month and I thought I'd give it a go.
So, without further ado, here are the questions for What's Up Wednesday!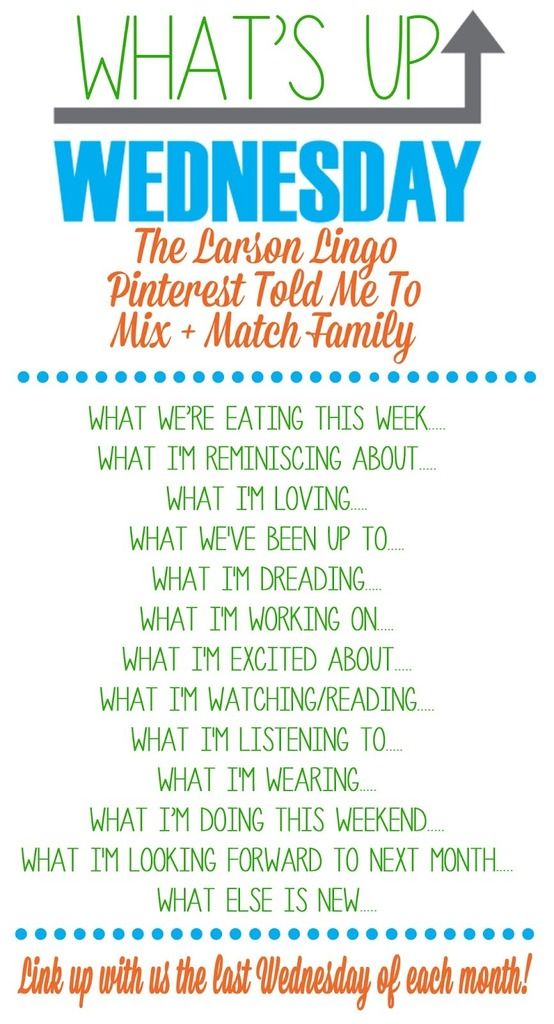 And the extra question for this month:
"What are you buying/wanting for Mother's Day this year?"
1) What we're eating this week...
This week's menu looks like this:
Monday: Tortellini with Italian Sausage Meat Sauce and garlic bread
I try to make fairly healthy food without a lot of fat, sometimes I succeed, sometimes I don't. In full disclosure, I won't be eating all of this myself, but I like to make the rest of the family happy at dinner!
2) What I am reminiscing about...
My Grandpa has been on my mind a lot (January was his one year anniversary of going to his eternal home). My youngest is planning his garden for spring and planting his starter seeds. I have been thinking a lot about my Grandpa's garden and his raspberry bushes along with the kohlrabi that he grew and Grandma cooked up! Yum! Fortunately, my youngest is giving the kohlrabi another try this year in his garden. He drew up his plans for the garden recently (top). Looks good to me! I also found some garden planning of my Grandpa's (bottom) while cleaning out his garage recently. It was fun to put them side by side and see some similarities in their planning!
3) What I'm loving...
This girl. I love her constant ability to make me laugh and remind me to stop and smell the roses from time to time. (The fact that she willingly brushes my hair is an added bonus!)
4) What we've been up to...
Life has been centered around the kids' activities for the most part. Soccer and track are the sports this time of year. I know that May will bring all kinds of craziness so I am trying to enjoy the "lull" of April while I can!
5) What I'm dreading...
I wish I loved to cook as much as I like to bake. Then I wouldn't be dreading trying to think of healthy and easy lunches for the kids when they are home for summer vacation. I am trying to Pin things that they can make in an effort to teach some life skills this summer. My oldest has one more year at home before college so I really want to get kitchen skills firmly planted this summer! Mique from Thirty Handmade Days (another blog I love) created this printable for kids' kitchen skills. We've got some work ahead! Ha!
6) What I'm working on...
One word for you...simplicity. I have a major challenge with getting rid of things. There are two reasons for this: 1) If I can sell it and make some money on it, I will. 2) I am way too emotionally attached to stuff. I have been improving and slowly getting rid of various items but there is still a long way to go. Just the thought of it makes me uncomfortable. Maybe I should have put this one up in question #5! Lol!
7) What I'm excited about...
I love, love, love having the kids home for summer. I love hearing their voices and just love their presence around the house. Except when they are making me crazy. Ha! We don't get out for summer vacation until June, but I am still excited!
8) What I'm watching/reading...
I am not a big television or movie person. I watch tv while I run on the treadmill in the morning, that is really the only time I really watch a whole show. That being said, what I am watching and what I am reading are the same right now! :) I started watching Call the Midwife on Netflix and then realized it is also a book so I requested it at the Bookmobile! I am also reading The Art of Arranging Flowers. I sometimes read two books as one time. I also realized that Property Brothers is accessible on Netflix so I can get back to my HGTV addiction, which is what I used to watch when I ran before we dropped cable.
9) What I'm listening to...
I have discovered that James Taylor is just the perfect music for me. Amazon Prime Music has given me the chance to listen to him as well as my other JT love, Justin Timberlake. It's been fun to find various playlists on there to listen to some new music as well as old favorites.
10) What I'm wearing...
I am a bargain hunter. I will splurge sometimes (mostly thanks to Sheaffer from Pinterest Told Me To, as mentioned above) but for the most part, I buy what I like and fits my budget. Many times, I check the racks at Target to see what I can find. I've also found that Target clothes fit my body well. Some stores just do that. Loft fits my body but not always my budget! :) I'd been admiring this scarf for a while and found it on clearance this week! I also found this shirt (sweatshirt? Not sure!) and I love it. I wish I could order one in every color. I freeze in the winter. And I mean, lips turning blue, freeze. This is cozy, comfortable and has a modern cut to it. I love it. I wish that I had discovered it sooner since they are sold out of many colors.
11) What I'm doing this weekend...
My husband is playing cards with the guys Friday so the ladies and the kids are getting together for a "ladies-ish night." Saturday is soccer and maybe a date night for hubby and I. It has been way too long since we've done that and desperately need to! Sunday is church, family time and preparing for the week ahead! Nothing too exciting!
12) What I'm looking forward to next month...
May is always a busy time for us. We have several family birthdays, Mother's Day and end of the year activities. Picking just one would be impossible! I am definitely looking forward to warmer weather though. Even though this summer was not nearly as cold as last summer, the whispered warmth of spring is so lovely!
13) What else is new...
I have an ongoing thing with my hair. Keep it long? Cut it short? Go lighter? Darker? I just don't know. As I get older, my grays have been happy to keep me well informed of their existence and my dark brown hair doesn't hide them as well. I am still working on what to do about that, without going to the hairdresser more often than my budget allows! Here's a pic of my hair length and current color. Any and all suggestions welcome! This is how it looks now.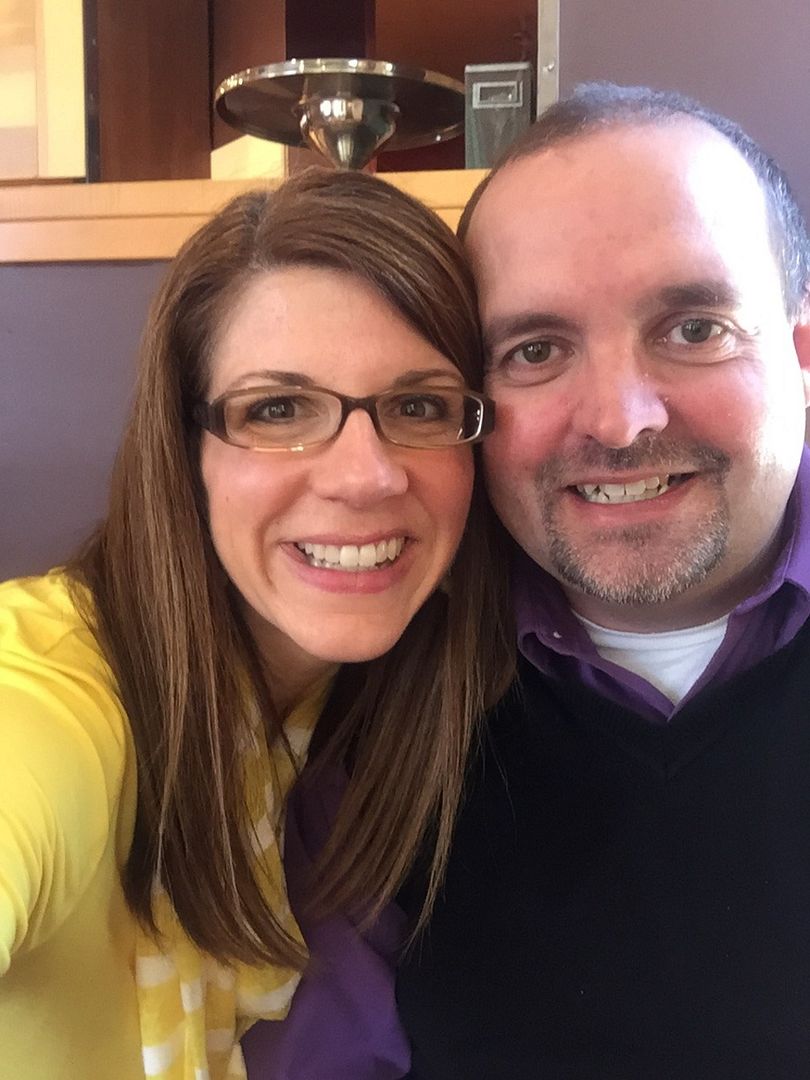 14) Extra question: What are you buying/wanting for Mother's Day this year?
I typically buy my mom the hanging flower basket for her front porch for Mother's Day. I am debating if that is the best bet this year or if I should think up something new. She is not much of a "things" person so I am thinking that maybe some time spend together would be best. It is my favorite thing anyway! :)
That does it for my very first "What's Up Wednesday" post! I hope that it was a fun little thing to do! I believe it will happen the last Wednesday of each month so plan to play along next time if you'd like!
Until next time...
Melissa