Take a look at how I've loaded up my Ribbon Carousel! I've never had a spot for all of my American Crafts ribbon and jute until I got my Ribbon Carousel. It was a perfect size for all of the spools.
I also wanted to store the ribbon that I use the most on my Ribbon Carousel for easy access. So, since I use a lot of white tulle and blue & gold twine (our school colors) I added those to my carousel as well.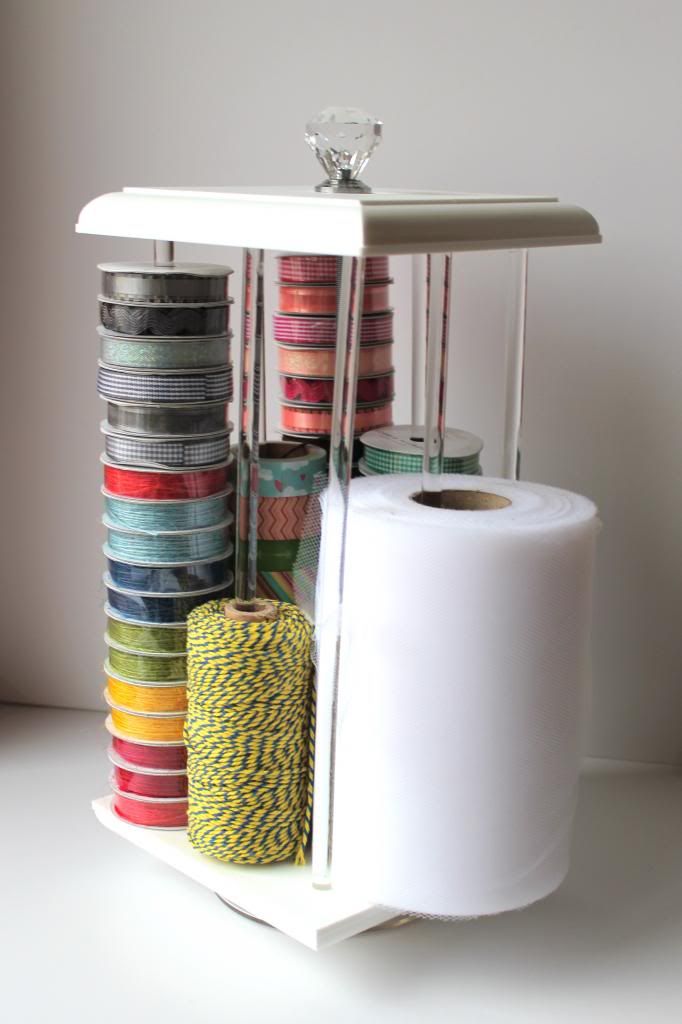 One of my favorite parts of the Ribbon Carousel is the gorgeous knob at the top. It is so solid and sturdy and well...sparkly and pretty! :)
Would you like to win your very own Ribbon Carousel? Here is what you need to do: Visit the Designer's blogs that are participating in each day of the blog hop and comment on their posts as you go. One of the Crewmate's Holiday blogs (from each hop day) will be randomly chosen as the 'it' blog and a winner will be picked using a random number generator from the comments left on that Crewmate's Holiday Blog Hop post.
You will not know which blog has been chosen so the more Crewmate Blogs you comment on, the better your chances are of winning your very own Ribbon Carousel! The Blog Hop will be open until 11:59 PM Eastern Time Monday, November 25th with the winners being announced Tuesday morning on the Ribbon Carousel Blog.
Already have a Ribbon Carousel?
Share a photo of YOUR Ribbon Carousel on our FaceBook page OR email it to info@ribboncarousel.com, and we'll share it for you! You'll be in special drawing for your choice of a Ribbon Carousel or 4 packages of spools!
For those that want a Ribbon Carousel NOW! Mark your calendar! We'll be having our LOWEST SALE PRICE of the YEAR sale on the Ribbon Carousels and Spools beginning Wednesday, November 27th--Cyber-­-Monday, December 2nd! No coupon code needed! Just go to our store and enjoy some happy shopping!
Here are the participants for Day 4 of the Ribbon Carousel Holiday Blog Hop. Enjoy!
Scrap Happy~
Melissa