I can't tell you how much fun I had reading all of the comments that you left on my blog this weekend! Participating in the Kiwi Lane Blog Hop was fun enough so reading each comment was icing on the cake! It was interesting to hear how most of you scrapbook (one page or two) as well as the kind things that you had to say about my layout at the blog hop in general. Overall,
And with that, here is the winning comment number chosen by random.org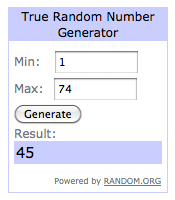 And the winner is Cristine!
Congratulations Cristine! I will be contacting you to send out your prize of Kiwi Lane Wildflower Templates! Thank you to all who left comments. It means so much to me to have such so many people sharing the love! Be sure to check back again and...
WELCOME TO ALL OF MY NEW FOLLOWERS!
I am so happy to

have you join me!