A quick post Easter post today along with a few recipes in an attempt to apologize for my lack of posting lately! Things are busy, as always, but all is well! Before recipes however, I needed to share a photo of my newest little niece! We had a newborn photo shoot last week when she wasn't even a week old and I was so happy with how the photos turned out! She is the sweetest little thing and quite the snuggler!
We changed up our usual Easter routine this year and actually ended up staying home with just our little family. Typically, we get together with our extended family but it didn't work out that way this year. It actually was kind of fun to spend the holiday at home and sharing more than one meal together.
On Saturday night, I got all of the things that we were going to eat together. This was the breakfast/dessert line-up:
Mini Breakfast Pies, Monkey Bread, Overnight Cinnamon Baked French Toast, and Simple Cream Pie
. I've been pinning so many things onto my Pinterest board lately, I was excited to make some of them!
First up were these little Mini Breakfast Pies. It is just a biscuit on the bottom along with the other ingredients and made in a muffin pan. These heat up very nicely in the microwave so they

would be easy to make ahead of time for the school week as well! This is a recipe from allrecipes.com.
INGREDIENTS:
3/4 pound breakfast sausage
1/8 cup minced onion
1/8 cup minced green bell pepper
1 (12 ounce) can refrigerated biscuit

dough
3 eggs, beaten
3 tablespoons milk
1/2 cup shredded Colby-Monterey Jack

cheese
DIRECTIONS:
1. Preheat oven to 400

º
2. In a large, deep skillet over medium-high heat, combine sausage, onion and green pepper. Cook until sausage is evenly brown. Drain, crumble, and set aside.
3. Separate the dough into 10 individual biscuits. Flatten each biscuit out, then line the bottom and sides of 10 muffin cups. Evenly distribute sausage mixture between the cups. Mix together the eggs and milk, and divide between the cups. Sprinkle tops with shredded cheese.
4. Bake in preheated oven for 18 to 20 minutes, or until filling is set.
Next up was
Monkey Bread
. I had never even heard of it until some neighbors told me about it ten years ago. Now, I make it sparingly since I eat it nonstop if it's around!
INGREDIENTS
2/3 cup granulated sugar
2 teaspoons cinnamon
4 cans refrigerated biscuits
10 tablespoons butter
1cup packed brown sugar
DIRECTIONS
1. Heat oven to 350°F. Grease or spray 12-cup fluted tube pan.
2. Mix granulated sugar and cinnamon in 1-gallon bag. Separate dough into biscuits; cut each in quarters.
3. Shake biscuit quarters in bag to coat; place in pan. Sprinkle any extra sugar mixture over biscuits.
4. In a saucepan, bring butter and brown sugar to boiling over medium-high heat; boil 1 minute, stirring constantly. Pour over biscuit quarters.
5. Bake 30 to 45 minutes or until golden brown. Cool 5 minutes. Turn upside down; pull apart to serve.
And the last item on the list for breakfast was this delicious
Overnight Cinnamon Baked French Toast
recipe that I found on
this blog
.
INGREDIENTS
1 loaf stale bread (I used french)
8 whole eggs
2 cups milk
1/2 cup heavy whipping cream
3/4 cups sugar
2 tablespoons vanilla
1/2 cup AP flour
1/2 cup firmly packed brown sugar
1 teaspoon cinnamon
1/4 teaspoon salt
1 stick cold butter, cubed
DIRECTIONS
1. Grease a 9 x 13 inch pan.
2. Tear the bread into chunks and place them in the greased pan.
3. Mix together eggs, milk, cream, sugar, and vanilla. Pour the mixture evenly over the bread. Cover and refrigerate overnight.
4. In another bowl, mix together the flour, brown sugar, cinnamon, and salt. Add the butter and mix until the batter comes somewhat together, like little pebbles. Store in a plastic bag in the fridge.
5. Preheat the oven to 350 degrees.
6. Take your pan with the soaking bread inside and sprinkle crumb mixture on top.
If you like soggier french toast, bake for 45 minutes. For a firmer and less liquid-y french toast, bake for an hour.
Serve warm with maple syrup and butter, if desired.
Lastly, for dessert, was a
Cream Pie
that I found on
this blog
. The story behind the pie is entertaining if you'd like to read it! I just wanted to find something that was different and that everyone might like. I was (pretty much) successful in that!
I love the rich, creaminess of the pie. It really turned out perfectly and I plan to make it again! Here is the recipe directly from their blog.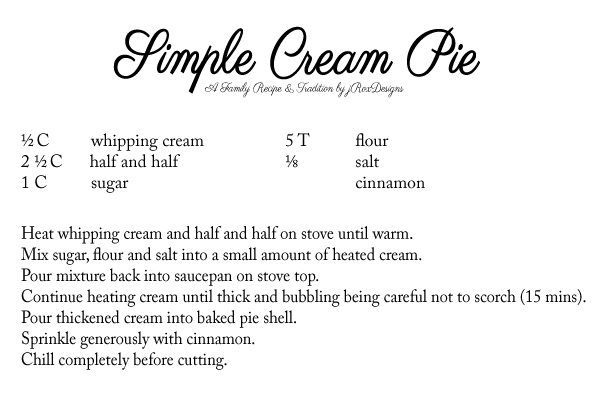 So, there was a lot of baking, a lot of eating and a lot of chocolate this past weekend! I hope that you had much of the same since all three of those make
me
really happy! Otherwise, I hope that your weekend was filled with all of the things that make
you
happy! Stop by tomorrow for a Kiwi Lane post using a really fun paper collection!
Scrap Happy~Melissa